A.

Gone But Not Forgotten

&nbsp

1) &nbsp Our classmate &nbsp

Sam K. Ryals

&nbsp passed away 15 October 2022. No obituary information is available. Burial is intended to be at the U. S. Air Force Academy in 2023, the date is still to be determined. Condolences may be sent to his family in care of his wife, Patty: Mrs. Patty M. Ryals, 7458 Albert Tillinghast Dr, Sarasota, FL 34240-8687


A) &nbsp

A Celebration of Life event for Sam will be held on 10 Dec, from 1600 - 1900 hours at the Southbrooke Christian Church, 9095 Washington Church Road, Miamisburg, OH 45342. This will be an informal gathering of family and friends with food, drink, music, and storytelling. Attire is business casual. Per the family, this is not a funeral service.



B) &nbsp Rick Pyatt and other grads that worked with Sam in his acquisition career are exploring honoring Sam's memory by starting a modest fundraising effort which would be used to create an annual award (trophy) for Excellence in Acquisition Program Management. Any feedback you might have on this initiative is desired and appreciated. Anyone with inputs on this initiative or who is interested in making a contribution toward the effort should contact to Rick Pyatt at Rick.Pyatt@Outlook.com or call (202) 321-2573.

2) &nbsp Our classmate &nbsp

Scott M. Smith

&nbsp passed away 16 September 2022. Condolences may be sent to his family in care of his wife, Janet: Mrs. Janet M. Smith, 15980 Kensington PL, Dumfries, VA 22025-3159

3) &nbsp Our classmate &nbsp

Roy R. Sawyer II

&nbsp passed away 14 April 2022.

4) &nbsp Our classmate &nbsp

Joseph W. "Joe" Kahiapo Jr.

&nbsp passed away 13 August 2021. Condolences may be left online via the obituary link or they may be sent to his family in care of his wife, Susan: Mrs. Susan I. Kahiapo; 94-321 Kaholo St; Mililani, HI 96789-2532

5) &nbsp The Class'

GBNF



B.

&nbsp Air Gardens Dedication &nbsp&nbsp

&nbsp
The Air Garden project is complete! The dedication ceremony was held 0800 on Saturday 23 October. Members of the class were present, including Larry Fariss (who spoke).



Here it is!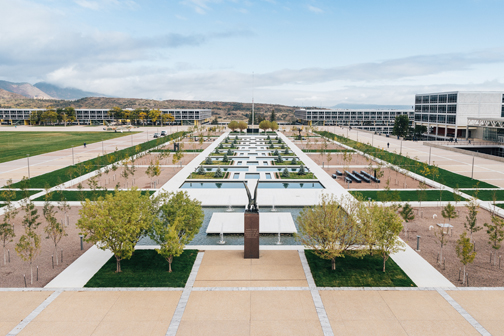 (You can see a full size image

here

)



And a Plaque!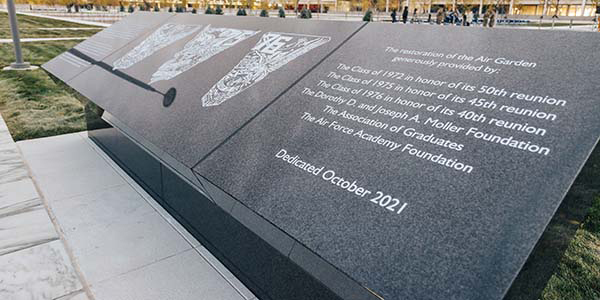 You can watch the ceremony

here



More photos

here



The Air Gardens history is

Here





Any additional photos for posting to the class websites are most appreciated!! Please send to Marty at mstytz@att.net and/or Bill Estelle at williamestelle@mac.com. Thanks!!




C.


&nbsp&nbsp The guys who donated to the Air Gardens and Contrails class gift fund are listed

here




&nbsp&nbsp Every grad is now entitled to a free membership in the AOG. Read all about it (and sign up)

here






D. AOG Class Advisory Senate News

1)&nbsp From Bruce (our rep):


a) &nbsp The latest CAS meeting minutes are posted:

here

.

b) &nbsp Please let Bruce know via E-mail (

brmitchell75@gmail.com

) if you have suggestions, questions, or comments for the AOG.



USAFA & AOG news official links are

Here

(thanks to Bruce Mitchell)


E.

&nbsp Miscellaneous &nbsp

&nbsp


1) &nbsp Mark Wells has retired (USAFA History Department Permanent Professor and Head), making him our official Last Man Standing for the class. Congratulations Mark!! Mark also received the optionally mandatory promotion to BG upon retirement for USAFA Dept. Chairs, bringing our class GO total up to 29.
2) &nbsp

3) &nbsp Jerry Wallace has revealed himself as the famous 1974 "Mitchell Hall Streaker" !!, ending uncountable years of speculation.
4) &nbsp The last living Doolittle Raider, &nbsp

Richard Cole

,&nbsp passed away 9 April, 2019.


There is an online condolence card for the Cole family available &nbsp

here

&nbsp (https://www.supportamericanveteranscenter.com/cole/)

More about Richard Cole &nbsp

here

&nbsp (https://www.youtube.com/watch?v=bKgBLJy7FwA) &nbsp and &nbsp

here

&nbsp (https://www.youtube.com/watch?v=pp2sTPQ-WQ8)


5) &nbsp An electronic copy of our yearbook is available online

here

.
6) &nbsp A high-resolution video made of the Moon by composition photos taken by the Lunar Reconnaissance Orbiter (LRO) spacecraft since 2011 is

here

.
7) &nbsp Updates from our class president (aka el presidente mas magnifico, le plus grand president, maximus praeses), Jim Carlson, are

Here



F. Have news for the class? Send news to Foster Bitton at

75ScribeAlive@gmail.com



Washington, DC