Class of 1986
Welcome To Our Class Website

Time Flies for Zoomies 86
28 May 1986? It sure doesn't seem like it was that long ago.
I'm glad the 25th Reunion was a really fun time for all. Are you ready for our 30th Class Reunion?


Next up - 30th Reunion in 2016
Dates: TBD

Reunion POCs:
USAFA AOG: Ms. Leigh Frigm
(719)472-0300 ext 138
Email: leigh.frigm@aogusafa.org

Class POC: Mike Meader
(720)840-3537
Class Gift
Roger Thrasher chairs the 1986 Class Gift Committee. It would be great if our Class can get together to raise $250,000 to help with the construction on the Center for Character and Leadership Development facility.
Roger can be reached at (703)789-7080 or 1986usafa@gmail.com. See http://ccld.usafa.org for more information.
Any help is appreciated on helping with the details to donations. Thank you very much in advance. Let's help make our Class stand out and excel.
------------------------------------------------------------------------------------------------------------------------------
FYI: The site you are seeing is mainly a static site with long term type information. Not much changes because of my limited time. There is another site for more real time communications. This is via Facebook. Look up our "USAFA Class of 1986" group on Facebook. Click on the following URL after you registered on Facebook. http://www.facebook.com/p.php?i=1084462903&k=55LY42TRV4XM5BBGSEZUSP

Here are some things that I am involved with at my location in Omaha, the Omaha Chapter of the AOG.
Idea for Class of 1986
Ladies and Gentlemen: The idea I am proposing is for something that is far off into the future. Perhaps, some of you may have already got this for squadron level. I was thinking about something similar with Doolittle's Raiders. We, as a class. host a toast for the last two remaining classmates. We can contribute something for the main AOG to hold, such as travel expenses for the last two remaining classmates to trek back to USAFA for the toast. Not sure what we should have to toast with, but we can purchase that, too, for the AOG to hold.
Anyway, just a thought. If you have other ideas, let me know.
Sincerely,
Ed Yong
<![if !vml]>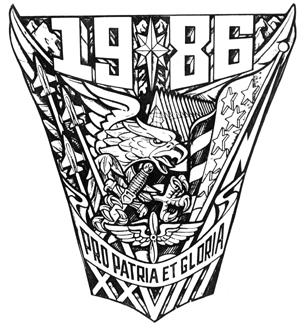 <![endif]>