40th Reunion





Fire-Up!



Jerry Wallace "reveals" himself as the famous 1974 "Mitchell Hall Streaker"!!, ending 40 years of speculation. More

here

Epic!


Kent Traylor, golf tournament honcho, summarized the event: 12th Squadron dominated the 88 player golf field again. Longest drive was Mark Volcheff (13th) with a monster shot in excess of 315 yards. Closest to the Pin on the 7th hole of the Robert Trent Jones Blue Course was Jack Van Ryn (12th). And the big CS-12 winners, with a score of 13 under par, were Craig Naas, Jack Van Ryn, Craig Christen, and Steve Marino (handicap of 1), whose son is currently playing on the PGA Tour. Like father, like son! Greg "Yumper" Black and Lance Grace kept the field lubricated and supplied with other amenities.

Opening with the return of Col (Ret) Waldo F. Dumbsquat, alter ego of 75's own Tom Laurie, the entire program featured new, exciting things at every turn. Otto Dieffenbach dazzled the noon meal crowd with his flying Superman on Friday. For videos and more, find Otto on Facebook, or at FlyGuyPromotions. (This is an unpaid public service announcement.) Larry Bryant and Bill Murray put on a great memorial service for all our GBNF brethren; thank you both, and all others involved, for a very moving service. The promotion and retirement ceremony of Last Man Standing for Mark Wells at a hangar on the airfield was well-attended and featured more than the usual family, friends, classmates, and well-wishers: There was a flyby almost every minute! Congratulations Mark...what's next?

Mike Matte emceed a superb banquet program, keeping things moving with insightful and playful comments throughout. The banquet also featured the return of the Lizard of Trou-town and the revelation of The Streak (cue Ray Stevens), our own Jerry Wallace. The Gazette featured the story on its front page next day! Probably the most impressive feat of the past 40 years is that all those involved in The Streak kept it secret for all these years. Steve Duresky and Dave Wallace regaled us with their parody from the Pirates of Penzance, a tribute to the Class. Estelle Productions produced another great video tribute, digging into the Wayback Machine for some shots from 5 July 1971 to the present, including GBNFs. The In the Stairwell Singers put on a good mix of a cappella music, and of course everyone enjoyed the camaraderie and conversation, catching up on things since the previous reunion.

Bruce Correll and Ted Stallone marked a 40-year milestone of their own: A wager that the first one married has to send the other to Hawaii. Bruce said that while both have been engaged several times, neither has taken The Plunge.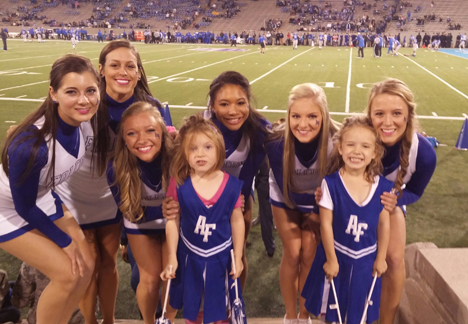 USAFA Cheerleaders With Jim Carlson's Twins
They seem to be getting younger!!
---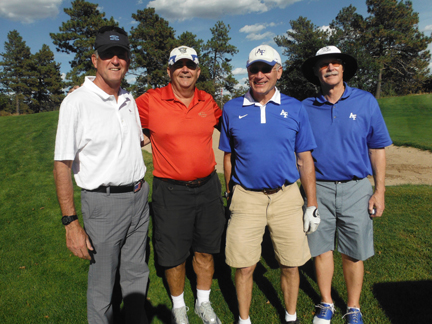 Golf Champs- Craig Naas, Jack Van Ryn, Craig Christen, and Steve Marino
---
Golfers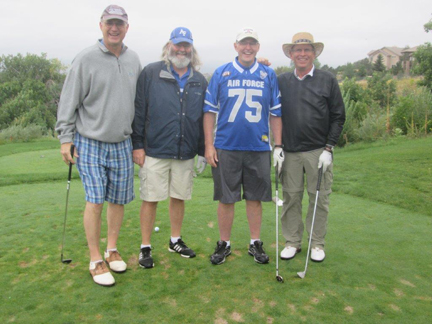 Terry Young, Jack Shine, me and Bruce Fritchze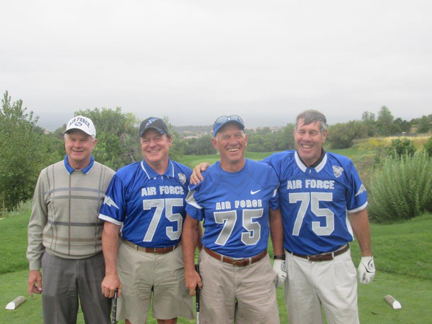 Bo Montgomery, Russ Trinter, Larry Fariss, Wayne Willis
---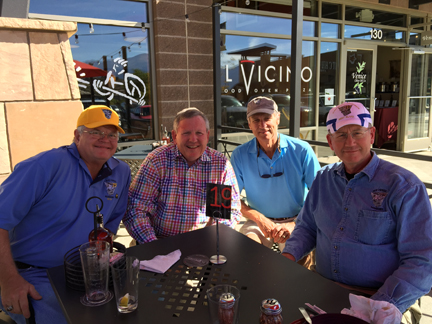 19th Sq Lunch: Buck Rogers, John Scherer, Jim Corrigan, Dave Anhalt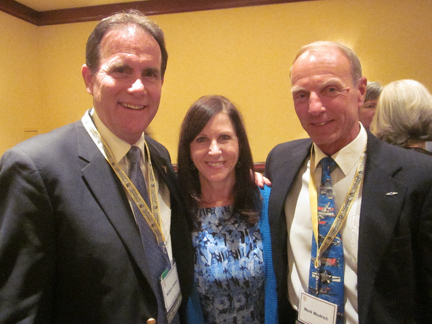 Bill Caskey, Theresa Chappell, Mark Modrich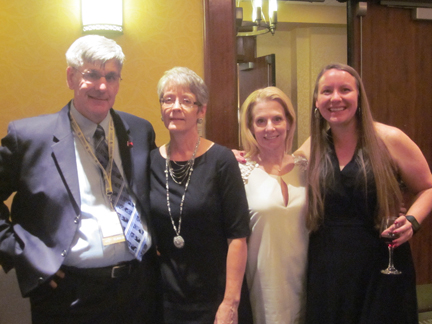 Randy Caraway, his wife Melissa, his sister Valerie, and Randy & Melissa's daughter Martha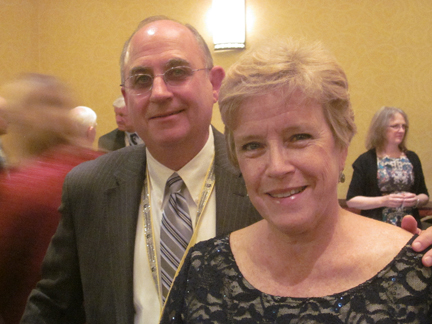 Rick & Gail Townsend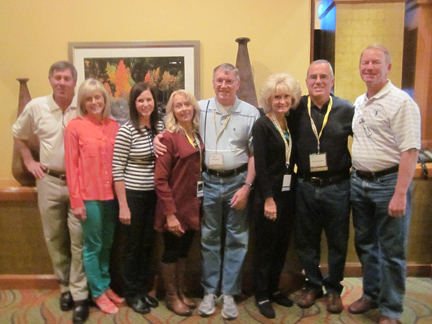 Wayne & Amy Willis, Theresa, Denise & Jerry Cooke, Charlynn & Mark Fantasia, Foster Bitton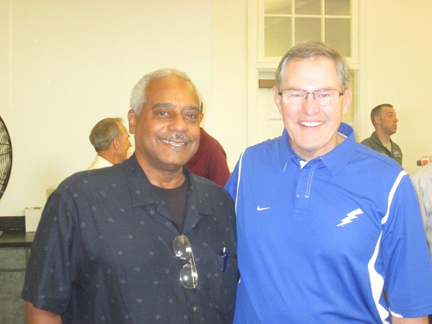 Chappie Hargrove and Bill Murray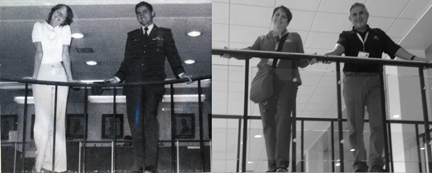 The Bosmas Meeting Place, Then and Now!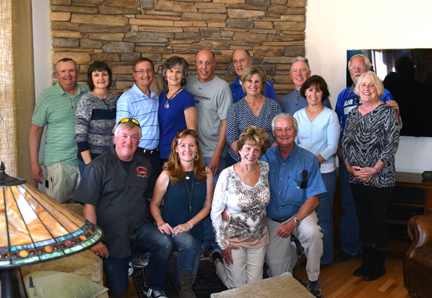 Tony & Cyndy Mahoney, Carolyn & Steve Schiemann,
(back row) Bill & Cathy Carrothers, Don & Debbie Henney, Bill Estelle, Larry & Melinda Bryant, Dave & Sharon Myers and Tom & Linda Burns
---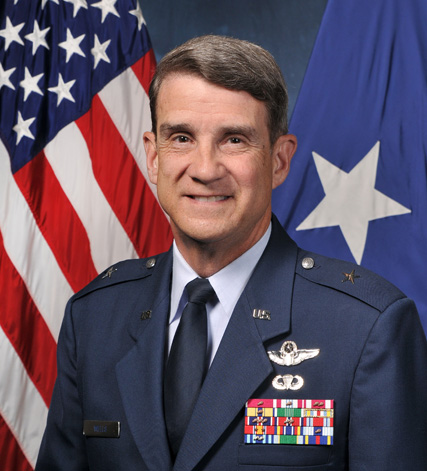 Mark has his star!!
---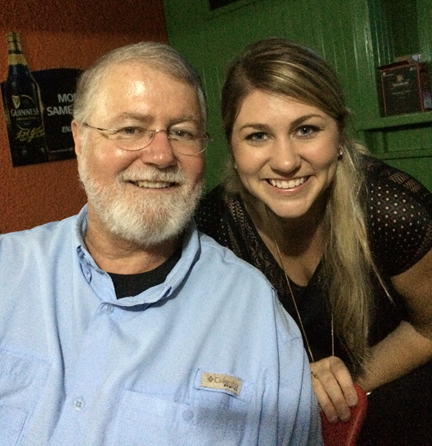 "Ebola Bill" Lyerly and his daughter Kirsten, in Ghana
A dangerous duo!!
---




The Guidon Spirit Mission!!
---